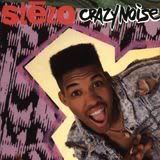 By DJ Haze
Now im not really up on hip hops middle school like that late 80's era shit. I was too young. I mean i bumped the popular shit like PE and Run DMC but I wasnt a hip hop nerd like I am now. Tonight imma talk about a dude that hailed from that era and is straight up rugged as fuck.But on the same hand, son was shady as a motherfucker. Stezo started out as a back up dancer for EPMD on there Strictly Business Tour back in 88. This was one of the biggest tours in hip hop history and he actually got kicked off of it due to beefing with Parrish Smith. Now this isnt what made Stezo famous in the hip hop community. Stezo is actually creditied with having the first recording to use the Skull Snaps break, Its a New Day. This joint has been sampled to death thru out the 90's by all kinds of motherfuckers. From Alanis Morrissete, Das Efx, Prodigy,Grave Diggerz, MF DOOM, Onyx, Pharcyde, Heavy D, Craig Mack, Lords of the Underground, shit the list goes on. This is one of the most popular and funkiest breakbeats out there. Now there is a little contreversoy though about this. He didnt discover it and kinda jacked it from his cousin Dooley O. This article here breaks down the situation so check it out.
DIRTY DIGGIN by Austin Wheeler from Elemental Magazine #31
(aka the long story behind "It's My Turn").
The Skull Snaps were a '70s funk group whose choice drum break at the beginning of a song called 'It's A New Day" became the foundation for a ridiculous amount of hip-hop in the 90s. Everything from Gang Starr's "Take It Personal" to Black Moon's "Who Got The Props" relied on the Skull Snaps for the fundamental thunder that is the hip-hop drum break. It falls behind only the Honey Dripper's "Impeach the President" and James Brown's "Funky Drummer" in terms of its importance to the hip-hop legacy.
"It's A New Day" was first introduced to the community by a rapper named Stezo via his 1989 classic b-side "It's My Turn", but like most firsts in hip-hop ("Rapper's Delight'), that is not the whole story. This story begins in 1988 in the little city of New Haven, Connecticut, on a street called (oddly enough) Liberty. Here, a young b-boy named Dooley-O managed to convince his neighbor Mrs. Brown to let him and his friend Chris Lowe dig around in her basement, uncovering two suitcases that contained her entire record collection.
The two beat-diggers found what they were looking for, and after thanking her profusely, returned to Dooley's house with two heavy suitcases. Among other things in Mrs. Brown's collection was a copy of the Skull Snaps' 1973 self-titled album. At the time this didn't mean as much as it does now, as Dooley described the record that commands at least $200 today as "aight" when he heard it for the first time. He did, however, hear the potential that so many producers have heard since in "It's A New Day", so he and Chris Lowe combined it with an ill Ike & Tina Turner sample and made one very legendary pause tape.
While the two were in Connecticut unearthing one of the most influential drum loops in hip-hop history, Dooley-O's cousin Stezo was on one of the most influential tours in hip-hop history. As a dancer (which was much cooler in '88) for EPMD during the Strictly Business tour, Stezo had already achieved much more than anyone else from his hometown, or so he thought. After being kicked oft the tour for beefing with Parrish Smith, Stezo returned to New Haven only to find his cousin Dooley had discovered a beat that was as ill as anything that came from EPMD. Dooley told him about the concept for a song called "Watch My Moves" which would use the thunderous Skull Snaps break for the first time. Chris Lowe, who was the master of the pause tape, put together this track and another one for Stezo and Dooley. The other song would later become a song called "Crazy Noise". With the two new songs all but recorded, the three headed for the studio.
The three heads recorded two songs in two rooms at A. Trodnozzle Studio in Wallingford, Connecticut. Having recorded "Watch my Moves" and "Crazy Noise", Dooley, Stezo, and Lowe took the cuts to the University of New Haven's radio station for immediate airplay. This would prove to be a telling glimpse into the future of Dooley's Skull Snaps break, as one listener jacked it from the airwaves the first time it was ever played! A student of the University of New Haven (UNH)and the nephew of the owner of DNA records (of Super Lover Ceo and Cassanova Rud fame) had looped the opening parts of the song, and made his own version of "Watch My Moves" called "Sweat My Moves". It had the same beat, same lyrics, and the same hook (with the word "sweat" replacing the word "watch"). One week after debuting the original on the UNH radio station, Dooley heard the other kids version on the very same show. He walked down to the radio station, roughed-up the DJ, and never heard that version again.
Soon after, Stezo landed a deal with Fresh records and attention was again turned to the beat for "Watch My Moves". This time it was Virgil Simms, Fresh's acting A&R, who expressed interest in the beat. Tensions grew as it became apparent Simms' interest was in the track and not in the song, as he tried to convince Dooley-O to give the beat to Stezo. Dooley told him to "go to hell", and the meeting was over. Stezo went into the studio to record for Fresh, and his cousin went back home to New Haven, and that was the end of it as far as Dooley knew.
A few weeks later, Stezo came by his cousin's house with the beats he'd laid down while in the Fresh studio. He apologized saying he could come out with a single, and then played what became the beat for "It's My Turn". It was the same one that Dooley and Chris had lugged up from Mrs. Brown's basement and refused to give to Fresh a few weeks before. This would be the first record released with the Skull Snaps drum loop.
After failing to get the track from Dooley, Simms apparently pressured Stezo into going for self. The pressure led Stezo to steal the Skull Snaps record from Chris Lowe's house, loop it with 'Atomic Dog" and claim all the production credit for himself; Dooley blames Simms' for his cousin's thievery.
Dooley decided blood was thicker than water and didn't let it come between them. He told Stezo just to look out for him in the future (i.e. give credit where credit is due). Immediately, "Its My Turn" became a classic and Stezo's head, in turn, got big. He neglected to give any production credit to Dooley or Lowe on his album, and then claimed to be from Brooklyn on the classic follow-up "Freak the Funk". At this point, Dooley got fed up with his cousin because he was not keeping it remotely "real". He stopped speaking to him until all the hype died down. wo years passed, and Stezo started work on his second album. Dooley signed with Tavdash records (who later become famous for selling R.Kelly to Jive), and EPMD blasted Stezo in their venomous classic "So Watcha Sayin"'. The cousins became friends again and Stezo enlisted Dooley's help in the production of his answer to EPMD's call- out. The record was called "Piece of the Pie "and featured a foreshadowing Dooley saying: "First album Strictly Business, second album Unfinished Business ,third album OUT OF BUSlNESS!" The two remain convinced that if the record had been released, it would've made Stezo legendary.
Now thats some shady shit. Diggin was gully as fuck back in the day. Got cats jacking records from your ass trying to be the first cat to use that break and other cats taping up records or soaking off labels so you couldnt see what they were rocking. It was on some gangsta shit back in the day. Its not like that anymore, cause everything has been sampled. Now its on how you flip it that sets you apart from the crowd. Also cats are more encouraging and are trying to progrss the art, so we sharing records to a degree. Also places like The Breaks and Soulstrut are helping to shine the light on the dopeness. With that here is 3 tracks from Steezo of his dope album Crazy Noise and I also I threw in the Skull Snaps joint for good measure. Shazam.
1. Girl Trouble
This is my joint right here. I love this shit. That Eddie Bo loop that he rocks over is real dope. Its been used by mad cats, but this is one of the first uses of it. Very dope. He talks about how he dissed a chick, then how the chick dissed his ass. Just some dope playa shit.
2. Bring The Horns
This is one of my favorite Stezo tracks. I think thats a kool and the gang loop hes rocking on, not sure. But shit is mad funky. Its just got that mad chill vibe to it. Stezo said he did the production but i dunno man. After reading that shit above, he seems like a snakey cat. But still shit is hot.
3. Its My Turn
Here is the beat that caused all the drama. Its a simple ass beat with that drum loop then the P-Funk loop gets dropped over it. But shit is hot. Its just funny how one little breakbeat got people flipping the fuck out when they heard this. So much as to even jack it off the radio and make there own tracks off his recording. The rhymes are mediocore, mainly stezo talking bout dancing and how its his turn. Whatever, but shit is tight.
4. Its a New Day - Skull Snaps
There is actually a post that we did a long time ago right here. Check that out and jam out to A New Day. Sucka.
And thats it for tonight. Bring the horns........Peace.